The Best Ways XR Is Used for Physiotherapy and Rehabilitation (2022)
Having VR and XR-therapy sessions in between real life sessions would mean that a) fewer real life sessions would be required per client, b) the sessions could be spread over a longer time period and c) the service could be more flexible and cost-effective if the therapy programme is accessible from their home/rehab placements when required....
Extended Reality for Physiotherapy and Rehabilitation
The Easiest Way To Understand XR for Physiotherapy and Rehabilitation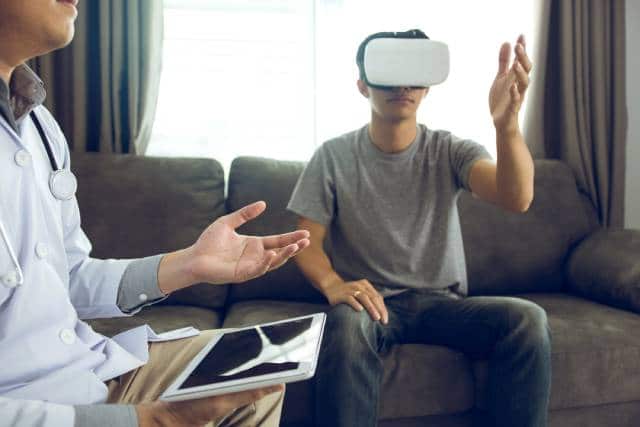 Below, we describe best uses for XR for Physiotherapy and Rehabilitation.
VR and XR are ideal modalities for encouraging movement recovery during the physiotherapeutic process.
Studies have demonstrated that immersing users in an engaging virtual scenario where the interaction emulates the exercises required in their conventional therapy results in increased patient enjoyment, reduced pain during the rehabilitation process and better results in movement recovery.
Physical therapy (in this context encompassing occupational and physiotherapy) is recommended by NICE.
Therapies considered include strength training and the use of task-focused active-use therapy such as constraint-induced movement therapy.
Short courses lasting four to eight weeks are recommended for this intervention, due to constraints on therapist availability and time.
Having VR and XR-therapy sessions in between real life sessions would mean that:
Fewer real life sessions would be required per client

The sessions could be spread over a longer time period

The service could be more flexible and cost-effective if the therapy programme is accessible from their home/rehab placements when required
Stroke patients suffering from Upper Limb Motor Impairment (ULMI often undergo repetitive therapeutic physiotherapy sessions to minimise functional disabilities of the affected area.
A higher intensity and frequency of upper-limb rehabilitation is associated with improved quality of life, motor function, the ability to perform daily activities and is cost-effective when considering the reduced psychological burden that ensues.
The effect of VR sessions with biofeedback compared to conventional PT alone was demonstrated in Kiper et al.'s randomised control trial with adult post-stroke patients (2018).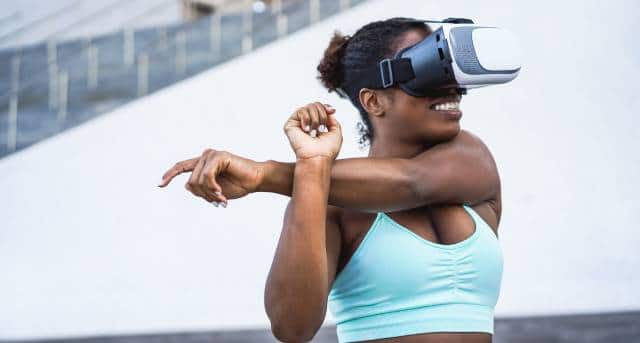 Conditions VR is Suitable For
Patients in need of upper limb rehabilitation include people affected by neurological conditions, trauma, brain injuries, musculoskeletal conditions and orthopaedic trauma, including children with cerebral palsy in the paediatric population and stroke patients in the adult population.
There are 30,000 cerebral palsy patients and 24,000 fractures patients in the paediatric population who could benefit from VR hand and arm rehabilitation systems.
In a clinical setting and in several clinical trials, VR-supported rehabilitation has been shown to be effective economically due to the reduced costs of the technology and also in reducing procedural pain, with limited adverse effects.
Additionally, studies have also shown that through gamification, VR has a high intrinsic motivational power that increases the level of engagement and enjoyment of patients in therapeutic routines.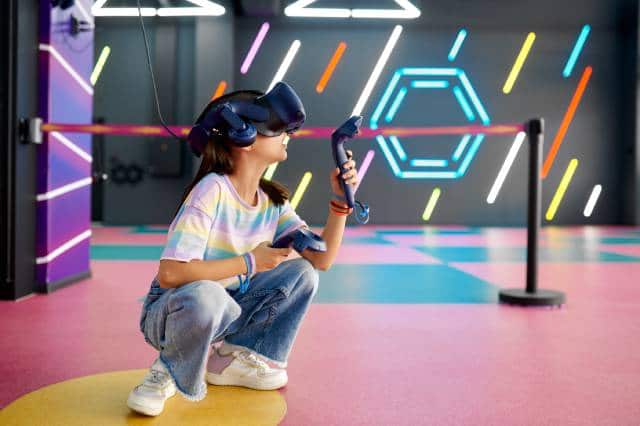 Sheffield Hallam Impact VR Lab Paediatric Study
This study explored the use of VR as a tool to provide therapeutic physiotherapy for child patients in an outpatient hospital department.
The focus was particularly on those suffering from Upper Limb Motor Impairment (ULMI).
Two bespoke VR games were developed with therapist input.
In one of the scenarios, the child had to climb up by performing an overhead arm raise exercise.
The other involved using a bow and arrow to target balloons and gnomes.
The children had to use both their injured and uninjured arms to complete the tasks.
In comparison with their usual rehabilitation experiences, children reported finding rehabilitation exercises more enjoyable and found movement easier and less painful using VR.
Pain and difficulty were rated overall as lower than usual, and enjoyment was rated as much higher than usual.
Patients could exercise for much longer and their attitude towards physiotherapy became more positive.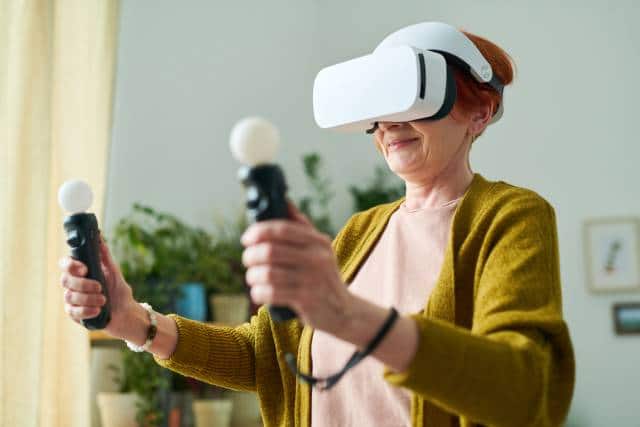 VR for Chronic Pain, Physiotherapy and Rehabilitation
There are considerable physical and financial, not to mention psychological costs of chronic pain.
The pain and discomfort of current therapeutic exercises reduces compliance and, consequently, the range of motion patients achieve.
This increases the risk of chronic pain and can reduce patients' confidence in the care team.
Tackling rehabilitation pain and treatment adherence is important to succeed in long-term outcomes.
Attending repeated sessions could enhance the prospect of good and/or complete recovery with the optimal restoration of function -with access to VR in clinic and at home, patients could achieve this.
Clinicians would benefit from patients needing fewer clinic appointments through patients' improved adherence to their rehabilitation protocols, with the attendant savings to the NHS.
Patient benefits include increased psychological wellbeing, faster recovery and earlier return to work/school.
Multiple studies reported the positive effect of using non-immersive VR game training on physical motor rehabilitation in children.
Immersive Rehab (VR) has been demonstrated to be effective in adult stroke patients.
The level of immersion (presence) in the environment contributes to enhanced learning efficacy and supports the transfer of proprioceptive knowledge and skills.
Tasks are more meaningful to participants, unconscious learning takes place, patient confidence improves and compliance improves as a result.
Their team have proceeded to study patients in the stroke, multiple sclerosis and spinal injury settings with varying results.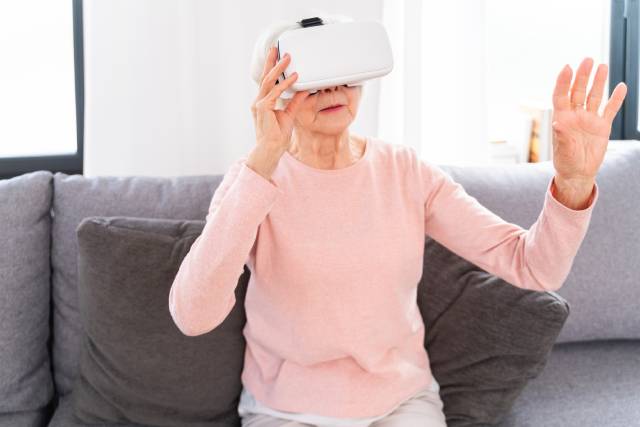 Future Possibilities for XR
HAUD visualises the transformational potential of VR in rehabilitation.
Specific targets include XR for home therapy.
Home rehabilitation allows patients to reduce therapy time, but many patients report difficulty in following rehabilitation at home due to a lack of motivation to exercise on their own.
VR systems available for use at home may solve this problem by making patients feel less alone, giving them the opportunity to compete with themselves and others, interact with others including clinicians on the VR platform (a fantastic example of this is the COPD pulmonary rehabilitation from Concept Health in Barrow in Furness- breathing exercises), interactivity and convenience offer incentives for improved patient participation and enjoyment.
Other benefits of XR for Physiotherapy and Rehabilitation include cost savings, reducing patient transportation to appointments, reducing home visits or providing patients with self-care/self-management, which could be beneficial for the long-term management of their conditions.
Additionally, home rehabilitation in pandemics can continue despite social distancing and increased waiting times presents itself as more relevant than ever to help reduce pressure on overstretched services.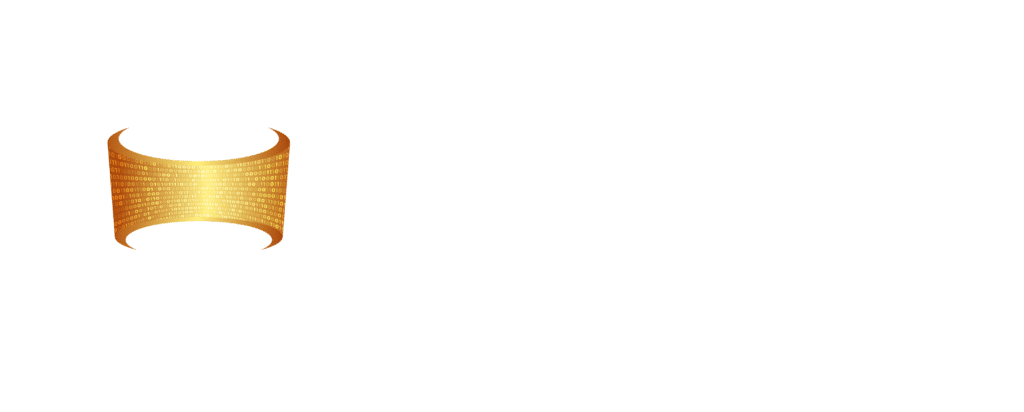 I hope you enjoyed this post about the use of XR for Physiotherapy and Rehabilitation.
HAUD aspires to draw from our extensive experience in the gaming and entertainment industries.
Our developers are adept at storytelling, using gamification and creative technology as powerful interventional tools for eliciting cost-efficient and beneficial patient, carer and clinician outcomes.